4 Strategies to Reduce the Chance of Failure
Newer commercial roofing materials can be an excellent investment in the property asset for building owners. The only problem is that "newer" single ply roofs and coatings actually have a higher failure rate and more problems than the older style roofing materials. We reveal why that is, and how to avoid it with 4 simple strategies.
History
The waterproofing materials we use on top of a commercial building have changed drastically in the last 30 years, but more specifically in the last 15 years. The market has generally moved more and more towards single plies and coatings. Single plies, as opposed to built-up roofing, rely heavily on nearly perfect workmanship during installation in order to gain maximum service life, with low maintenance and few emergency leak problems.
Built-up roofing, whether using asphalt, coal tar or modified materials also rely on good workmanship when installed, but also build a redundancy in the system to reduce workmanship issues.
The attraction of single plies and coatings primarily lie in the installed cost and environmental issues. Did I mention cost? These factors continue to drive the market in the direction of single plies. The major downside is that modern-day commercial roofs are proving to have more problems and are being replaced sooner than ever before!
How can you, as a building owner, reduce the chances of failure when buying a new single ply or coating solution for your building's roof? I offer you:
The Four Strategies
Strategy 1: The Right Design
Whether you use a contractor, an architect or some form of a consultant: the key is to make sure you know and trust this person and the firm he represents. Trust comes from many things but mainly from the fact that the person you are dealing with has a successful track record with people that you know! This person should be able to offer you several options for the design before you actually decide on which one will work for you. Having at least three options that range from a shorter life to a longer life is absolutely necessary for you to make a good decision. Never, ever fall into the trap of "one size fits all"- no matter who you are dealing with.
Strategy 2: The Installation
If you are dealing with a trusted contractor in the design phase, then you will also trust them to install the roof waterproofing system correctly. If you use an architect, or a consultant it can get a little tricky. You may have determined the right design, but installing that design by someone who hasn't passed the trust test is a huge mistake. You must go back to strategy 1 and find yourself a trusted contractor. Don't cut corners on this one. The contractor must have a successful track record with several of your peers. And that track record needs to be for an installation that is at least 10 years old.
Strategy 3: Maintain Your Investment
If proper maintenance is regularly practiced, your investment should perform for you and protect your building assets for at least 25 years, and with some installations 35 years. A low-cost program designed by the installer is a must.
Strategy 4: Ignore the Product Warranty
Ignore the Product Warranty. That's right – many of my customers have heard me say this before. Warranties are the most abused marketing schemes ever. They are the most popular way to sell a certain product to the market. The truth is – warranties are the worst thing for the industry. They emphasize front-loading insurance money (part of your cost to buy a new installation) while at the same time shifting the entire liability onto the building owner. Again, don't buy based on the warranty.
Bottom line is this: use these four strategies to make the best possible investment. There are several very popular single plies membranes on the market that have a very high failure rate as well as horrendous service problems, yet they have awesome warranties!
A Story
Without naming names, there is a very large property owner that has properties throughout North America. This owner insists on buying a certain type of single ply system for their roofs. The average age of these roofs at time of replacement is only 14 years. And it isn't only their life spans that suffer. The quality of the roofs' Service Life are also sacrificed. The owner endures terrible service problems with plentiful roof leaks, and catastrophic problems at times. This particular product is widely specified and very popular. Recently the owner installed a new 100,000 square foot roof here in Maine. The roof has already developed at least two dozen leaks within the first year. Why you may ask? Because they did not use the Four Strategies!
Sincerely,
Rick St. Hilaire
IRC
O: (207) 784-4551, x114
M: (207) 212-6830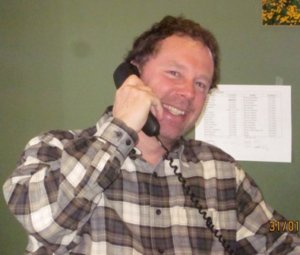 Rick St. Hilaire is the President of Roof Management Services. He's been developing improved techniques and systems to enhance and lengthen the Service Life of commercial roofs and building envelope systems. He's been involved in the commercial roofing industry for over 25 years. IRC Roof Management Services is the only company in Maine specializing in delivering these techniques and systems and is part of the IRC family of companies. Rick can be reached at  rick@ircmaine.com, or you may reach him at the Lewiston, Maine office.
Employee Announcements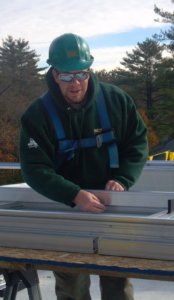 A Praiseworthy Promotion
A former Solar Roof Systems foreman, Derek Turnbull (above) has recently been promoted to Solar Roof Systems Project Manager. Derek will be responsible for the day-to-day project responsibilities, as well as planning and exploring future opportunities. Derek's tireless work ethic and extensive hands-on experience has shone through with his new position.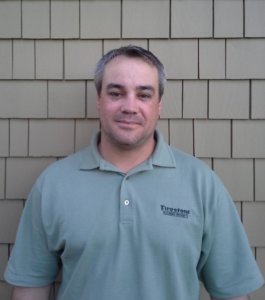 Welcome Matt Clark to IRC!
We are pleased to announce that we have hired a new Sales Consultant/Representative – Matt Clark.  Matt will reside in southern New Hampshire and help us grow IRC's footprint into Northern New England. Matt has a diverse background in Sales in the commercial building/owner segment, and we are excited to welcome him to the IRC family.
IRC Safety
The management team, frontline supervisors, and employees at IRC are committed to developing and maintaining the safest work environment possible. We believe that safety, above all else, is the driving force behind a productive, prosperous business. Our goal is to set the standard for safety in our industry and we believe, by doing this, we create a workplace with: higher morale, better production, and healthier employees.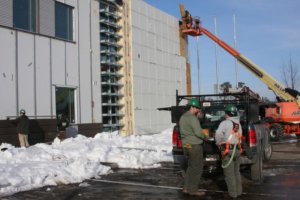 Above: IRC's New Safety Director, Ted Clark, working directly with IRC crews on a job, to ensure they are working in the safest and most efficient environment possible.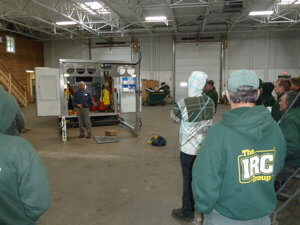 Above: IRC Foremen regularly receive specialized hands-on safety training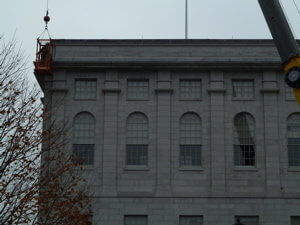 Above: Our crews partaking in a complex repair based on a thorough safety plan.
Major RMS Jobs Currently in Progress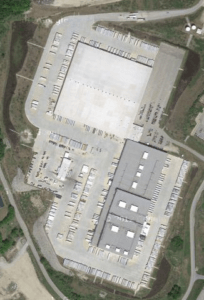 Walmart Distribution Center
Lewiston, Maine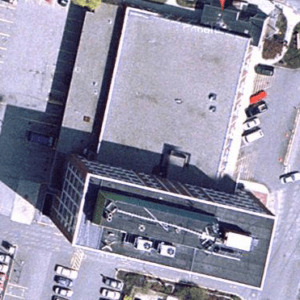 U.S. General Services Administration
Edmund Muskie Building
Augusta, Maine
Current Projects
Hyatt Place Hotel
Portland, Maine
Industrial Roofing & Siding is Proud to be a part of the Hyatt Place Hotel project with Consigli and East Brown Cow!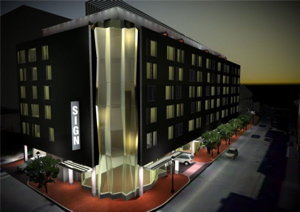 Idexx Laboratories 
Madison, Maine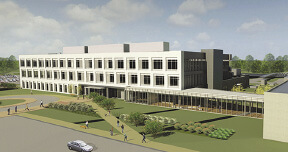 The Cambridge School of Weston
Weston, Massachusetts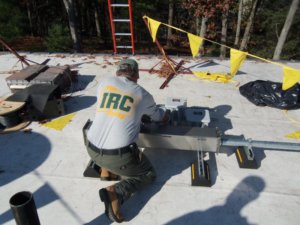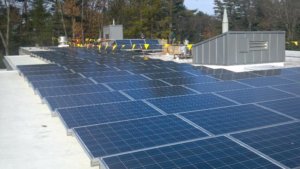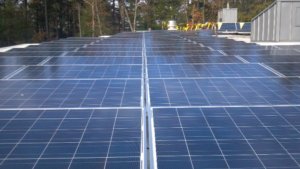 The Cambridge School of Weston is an innovative, collaborative, day and boarding community fostering educational depth and richness for students in grades 9-12.  The Science Department attempts to foster a genuine interest in the sciences via an intensely experiential approach that emphasizes experimental design and analysis. The newly installed 48kW solar photovoltaic system is incorporated into both the physical space at the environmentally enhanced Garthwaite Science Center building as well as the overall science curriculum.  State-of-the-art monitoring systems will allow students to analyze production, efficiency and environmental factors relating to the production of clean, sustainable renewable energy on the roof.  IRC Solar Roof Systems provided the ballasted solar solution as part of its innovative Solar Power Purchase Agreement. IRC Solar Roof Systems engineers, installs and maintains both the solar equipment and roof systems as part of the ongoing program.